How to Enroll in a Course
Learn about our two coaching pathways to licensure, Grassroots and Pro, both available online and in person to eligible individuals.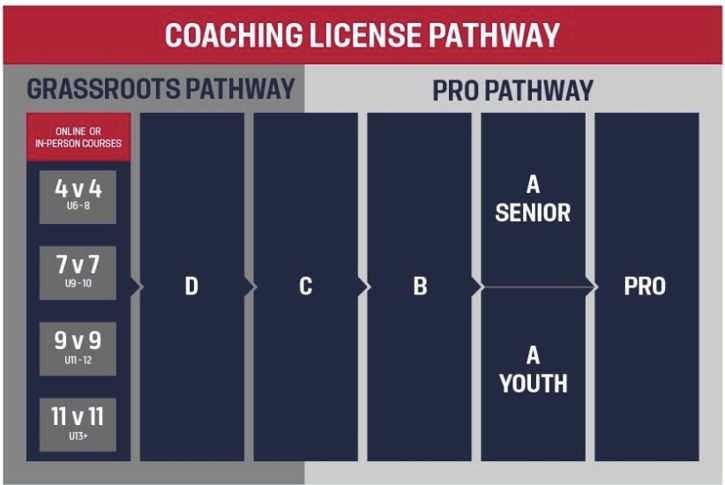 Eligible coaches wishing to register for a Module/Course will need to log on to the Digital Coaching Center, choose a Module/Course on the list they wish to register for and select that event. Registration should be completed in a timely manner as all courses will now have an "Open for Registration Date" and a "Closed for Registration Date". Coaches cannot be added as a "walk-in" after the closed date.

All coaches registering will be charged the course fee plus the US Soccer surcharge of $25.00. Once the coach is registered they will receive a confirmation of course enrollment. Any written coursework will be done through the DCC. Homework Due dates are listed for each course. Once enrolled, all course communication is done via the "Communication tab" for each course in the DCC. Once the coach has completed all coursework, and are awarded their license, they can download and print their license from their profile page.
For refund/Transfer policies, please see Course/Module description. Refunds, if eligible, will be issued by State Association, not US Soccer.
Available Grassroots Coach Courses
Virtual, blended, and traditional course formats are available.
Traditional courses are hosted by a group, league or club, and are scheduled through your State Association. All courses will be taught by an approved US Soccer Coaching Instructor. All coaches must register and pay for the In-person course through the DLC.
USSF National A, B, C Licenses
Additional Coaching Education
Learn more about courses available online.
Introduction to Grassroots Coaching
Introduction to Safe and Healthy Playing Environments (Required for Cal North Coaches)
Safe Sport Training (Required for Cal North Coaches)
All Cal North Coaches, administrators, board members, league and club board members, and other adult individuals are required to complete training through the US Center for Safe Sport.
Preventing abuse in sport begins with awareness and how to recognize the red flags of emotional, physical, and sexual misconduct, and then what to do if abuse does occur. The online SafeSport Trained 90-minute core course covers the following topics in-depth and provide a pre-and post-testing component:
Mandatory Reporting
Sexual Misconduct Awareness Education
Emotional and Physical Misconduct
In addition to the core training, all adults are required to take refresher training in subsequent years.
When completing your course, please make sure to use the same first name, last name, and email address that was used when registering as a team administrator.